Lorenzo is among a new class of Latino leaders emerging in Arizona. The Phoenix Business Journal named him one of the "Most Influential" minority business leaders in the metro Phoenix area. Despite earning his way into the Fortune 500 business sector, Lorenzo's story began with the same humble roots that define so many stories in pursuit of the American Dream.
The son of a Vietnam veteran and copper miner, Lorenzo came up through the public school system in Tucson's impoverished Sunnyside School District. He was the first in his family to make it to – and through – college, graduating with a Bachelor's degree in Journalism from Arizona State University. He began a career in corporate communications, creating award-winning marketing and community development projects that earned him a career in Fortune 100 and 500 industries.
His roots and experiences drive his passion for local and statewide community service and advocacy. His proven ability to innovate and collaborate, bringing meaningful improvements to individuals and communities, has earned him appointments to:
Maricopa Association of Governments – Economic Development Commission
Secretary, Maricopa County Sheriff Paul Penzone's Hispanic Advisory Board
WESTMARC
City of Phoenix Business and Workforce Development Commission
Hispanic Leadership Forum del Oeste
Vice-Chair, Arizona Hispanic Chamber of Commerce
Chicanos por la Causa – Health and Human Services Committee
Xico (Latino-based arts organization)
Having experienced the American Dream firsthand, Lorenzo is determined to give back. Education, strategic economic development, and diverse, vibrant communities are a cornerstone of his service, delivering on the promise of the American Dream for those he serves.
Lorenzo and his wife, Rhonda, are proud to call Arizona home. They are raising their family, including two very friendly dogs, in the heart of Avondale.
Tuesday, June 12th, 2018 at 8:26am
Developing a strong economy that works for the working people in #LD19 takes strategic leadership. That's why I am proud to have earned the endorsement of the @phxchamber https://t.co/nU0BAlNfLU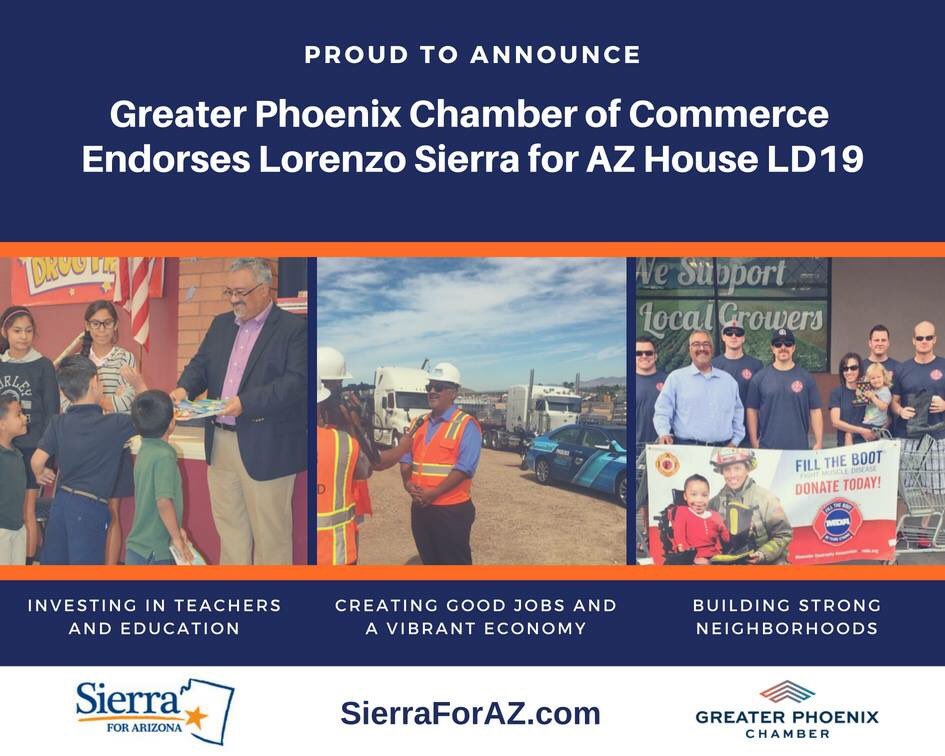 Monday, June 11th, 2018 at 12:24pm
Join us as we continue bringing real results for real people in #LD19 Educators can attend free thanks to our awesome hosts. https://t.co/9T54N21K3u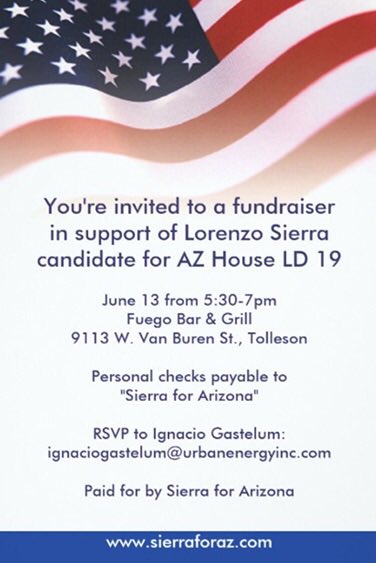 Monday, June 11th, 2018 at 9:31am
RT @AndresCanoAZ: Hope to see you tomorrow, PHX! Join us for wine, cheese, and beer to hear our vision for a stronger Arizona! - AC https:/…